NASCO recognized that there is one place on the internet that 100% of your potential customers are…the search box of Google. As you and your customers use the search box, Google is trying to recommend what you should be searching for, this feature is called autosuggest. NASCO's product takes the most valuable searches in your industry and makes Google recommend your company in autosuggest. 
Why does this matter? By putting your organization in autosuggest, you are seen before your competition and if you are selected, you own not just one search result, but you actually own all of them. NASCO is doing this for the most valuable keywords in the Property Restoration industry. Here is the kicker, once a keyword is sold, they will not sell it to anyone else which makes their program very exclusive and truly gives you a competitive advantage. There are contractors on the CORE network that use this technology, and only have positive things to say. You really have to see this demonstrated, NASCO can show you in a matter of a few seconds.
It all starts with a search.

The Google home page may be the most recognized and widely used tool on the internet. For businesses like you, think of how many purchases have started here.
Get recommended before anyone else 
Google (and every other major internet platform) has integrated into their search bar recommendations of what the searcher should consider searching for. This feature is called autosuggest and it is one of the most popular features on the Google platform. Autosuggest fundamentally has the ability to alter the search of a user (thus, fundamentally altering the search results)
Stop Competing and Start Dominating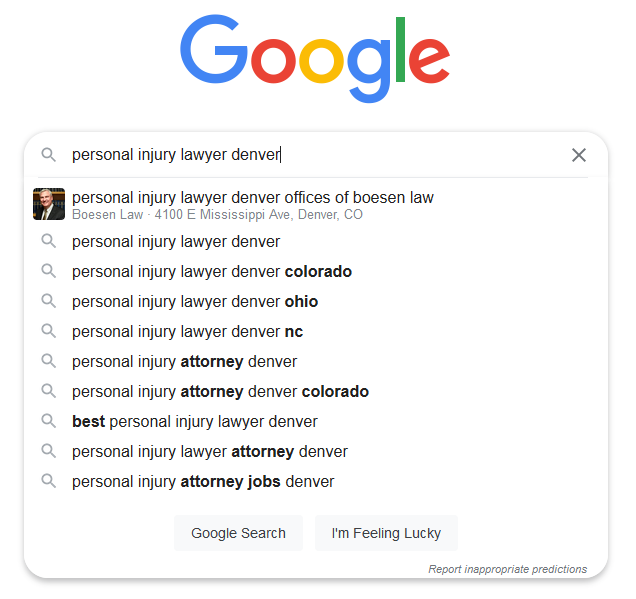 By utilizing our program, this customer was able to change the very popular (and expensive) generic search term of "Personal Injury Lawyer Denver" to a direct search for his business in Autosuggest. You can see it at the very top "Personal Injury Lawyer Denver Offices of Boesen Law." Go ahead and try it for yourself on your computer or smartphone (it works wherever Google works).
2 things happen by showing up here: 1) People assume Google is recommending your business and/or 2: People assume everyone is looking for you. Both of these have a tremendous amount of local star power for you and your business.
(Thanks Boesen Law, we love you guys)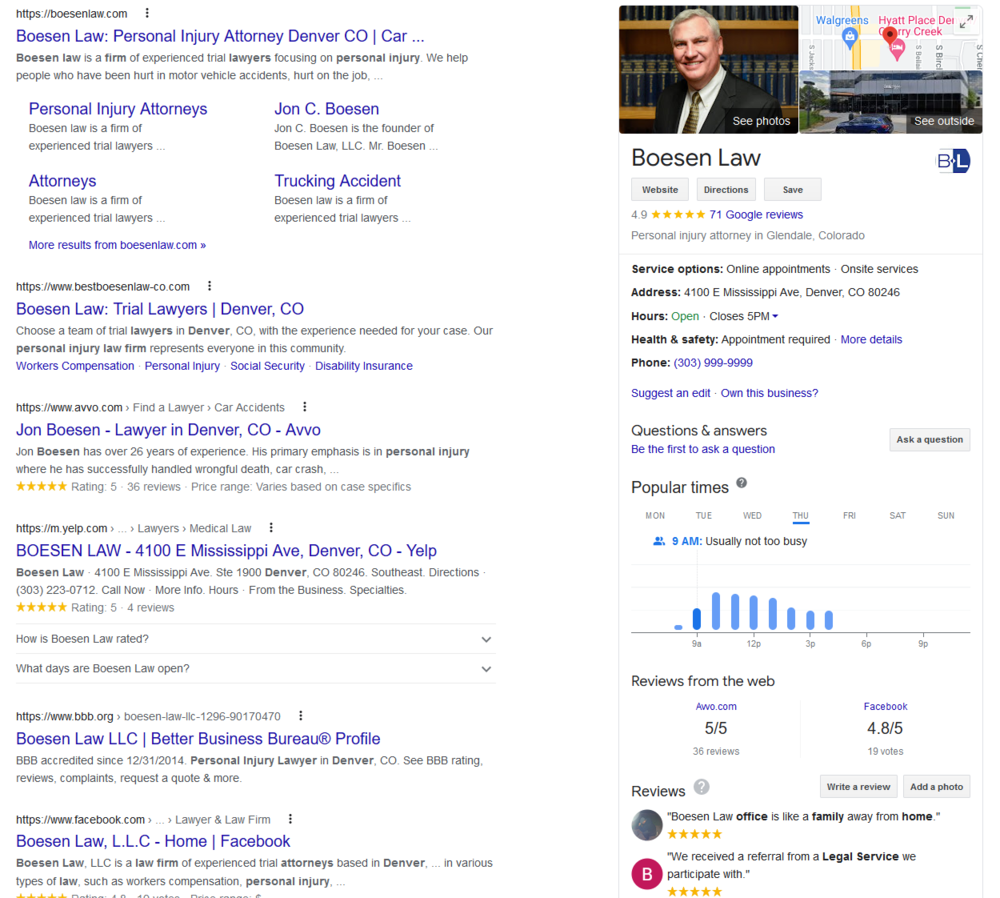 Being in Autosuggest is great and gives you the 'First Impression Advantage,' but lets be real, you want to know how you make money. By clicking on the autosuggest, your potential customers are now transported to search results where you own every single spot. Think about it, in a world where we fight daily to own one spot on Google's first page, there is a solution that you can own it all. This is not a parlor trick, remember they searched your name by clicking on the autosuggest. In fact, these results are the only thing that makes sense.
Exclusivity
We can only sell a keyword once and when it is gone, it is gone (likely forever because no one cancels).
Being in autosuggest is like a light switch; it is either on or off. Getting you in autosuggest is not instantaneous, but happens much faster than other organic marketing efforts. Once you start populating, you start getting website views.
Guaranteed
We put our money where our mouth is…simply put, if you are not in Autosuggest, we do not charge you. You do not want some fluffy, vaguely wording guarantee…you want this guarantee (remember, how this business was built).
44 East Avenue, Suite 2301
Austin, TX 78701