UNITS has earned a reputation for providing excellent customer service focused on relationship building. Their state-of-the-art steel storage containers are secure, weatherproof and available for rental from conveniently located sales & climate-controlled storage facilities.
Portable Storage Solutions: UNITS offers 12′ & 16′ all steel containers for onsite and offsite storage needs, with climate controlled facilities in which the containers can be stored if necessary. They also offer e-trac storage straps, third party insurance for contents inside the container, damage waivers, and moving blankets.
Special Pricing & Terms: CORE Perks affiliated contractors receive the most competitive commercial prices and flexible payment term options (below).
Net 30 upon container delivery.

Net 45 upon container delivery if CORE Perks affiliated contractor gives the local UNITS franchise a credit card to be charged automatically on the 45th day.
Interested in discounted National Account Pricing? Please click/tap the red sign up button on this profile, or visit unitsstorage.com/coreperks to receive a quote and secure service.
Eligible for Annual Rebate/Cash Back Program: CORE will pay each participating contractor a Volume Allowance Rebate % on its total Annual Volume spend based on the applicable Annual Allowance Period. For more info on eligibility, and to view the allowance period & rebate percentage you can earn, please read the rebate terms found below.
Questions? Please contact Chris Camasta, UNITS Director of National Accounts at (843) 637-0616 [cell] or at ccamasta@unitsstorage.com
CORE-UNITS Ordering Portal: unitsstorage.com/coreperks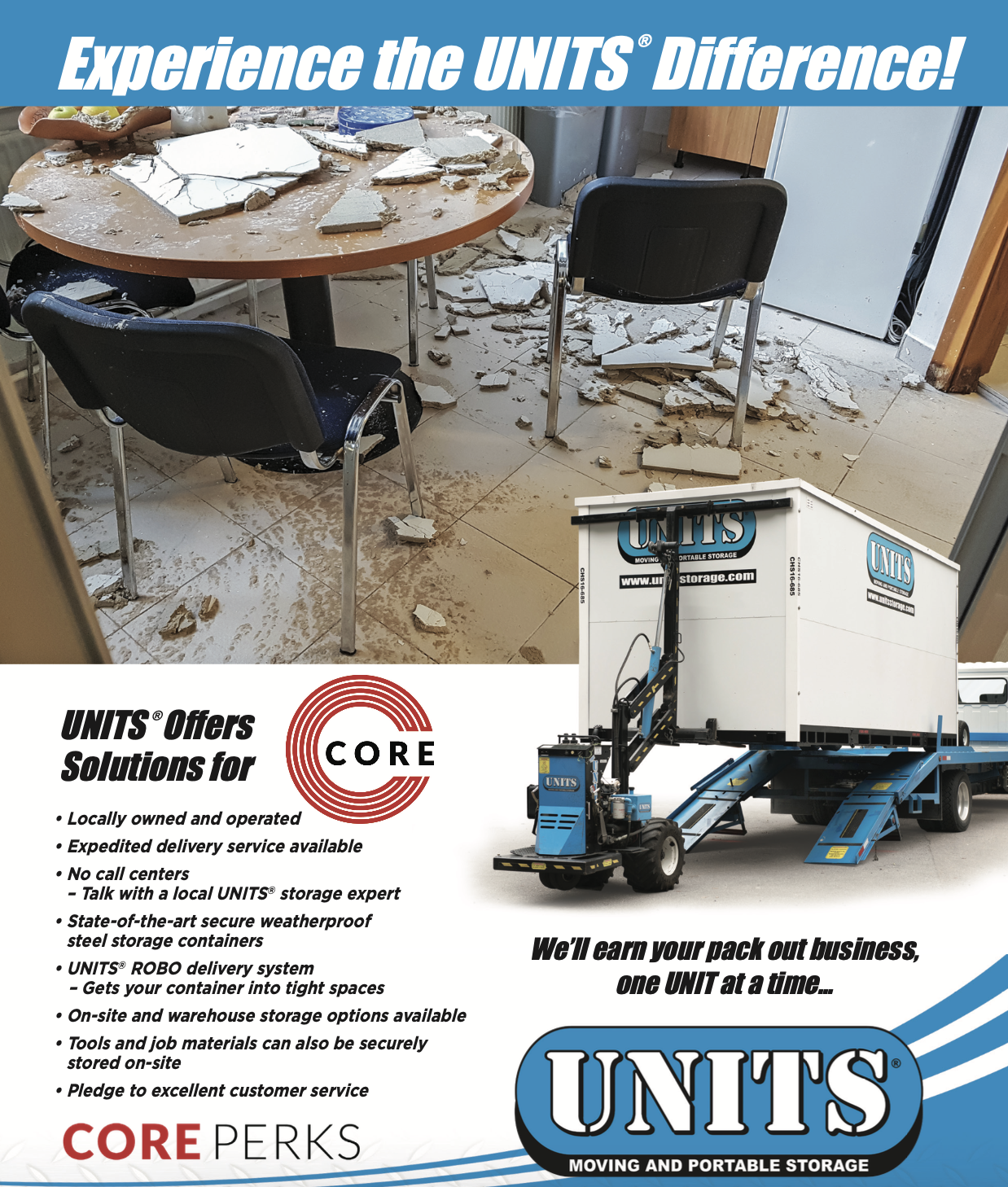 Rebate Terms: CORE will pay each Independent Contractor a Volume Allowance (rebate %) on its total annual Volume spend based on the applicable Annual Allowance Period (March 1st to February 28th), pursuant to the terms below. All purchases will be tracked for Independent Contractor only after they have signed up for program.
Volume Allowance (Rebate % to Contractor Earned):
Elite Member will earn 2% rebate in Year 1 of Participation, 1.2% in Year 2 and beyond on qualifying purchases.

CORE Members, Affiliates & ONCORE Service Providers will earn 1% rebate on qualifying purchases.



Annual Volume Allowance Period (When Contractor is Eligible to Earn Rebates): March 1st to February 28th.
Payment: The Volume Allowance will be paid by CORE Group to each individual Independent Contractor approximately 120 days after the end of each Annual Allowance Period.
Revenue Requirements & Restrictions: In order for your organization to be eligible to receive annual rebates/cash back from CORE, the collective CORE Group Contractor Network (total spend among all CORE Perks affiliated companies) must incur and pay for at least $200,000.00 (Minimum Annual Revenue) in net billed rental charges and/or applicable charges, less credits, pursuant to Rental Contracts during the twelve (12) month period (March 1st to February 28th Rebate Period). At the end of the first Rebate Period (March 1st to February 28th), the Applicable Rental Revenues will reset to zero and CORE Group Contractor Network must meet the Minimum Annual Revenues for the following twelve (12) months which shall constitute a new Rebate Period.
925 B S. Capital of Texas Highway
Suite 125
Austin, TX 78746