TOBOR Technology started developing the XBOT robot in 2013 for inspecting roofs. Through the use of their robotic platform along with the addition of other sensors and components, they realized they could use their platform for crawlspaces as well. By using the XBOT to perform roof & crawlspace inspections, contractors can safely complete their jobs. Utilizing a system of ultrasonic and laser sensors, combined with high definition pan, tilt, zoom cameras, the XBOT can perform in depth analysis. The full pan/zoom/tilt (PZT) capability of the camera system allows detailed viewing of structures so minute that it rivals even a human's ability to discern damage & wear, all while streaming the entire inspection session to the control computer's storage for later review. The system even features the ability to take and store still shots of areas of particular interest during the session. The result…A detailed, indisputable record of the property's condition, free of questions regarding subjectivity, unintentional damage, and even fraud resulting from unscrupulous inspectors.
Special Discounts:
-XBOT Published Retail Price: $2398
-CORE Perks Affiliate Contractor Price: $2038
Interested? If you'd like to be contacted by this vendor – please click/tap the red sign up button on this profile, and TOBOR Technology will be sent your contact info. You can also contact Mike Slawinski at tobortechx@gmail.com, (925) 444-5580. Please be sure to mention your affiliation with CORE to secure special XBOT discounts. For more information, please visit tobortechnology.com/xbot.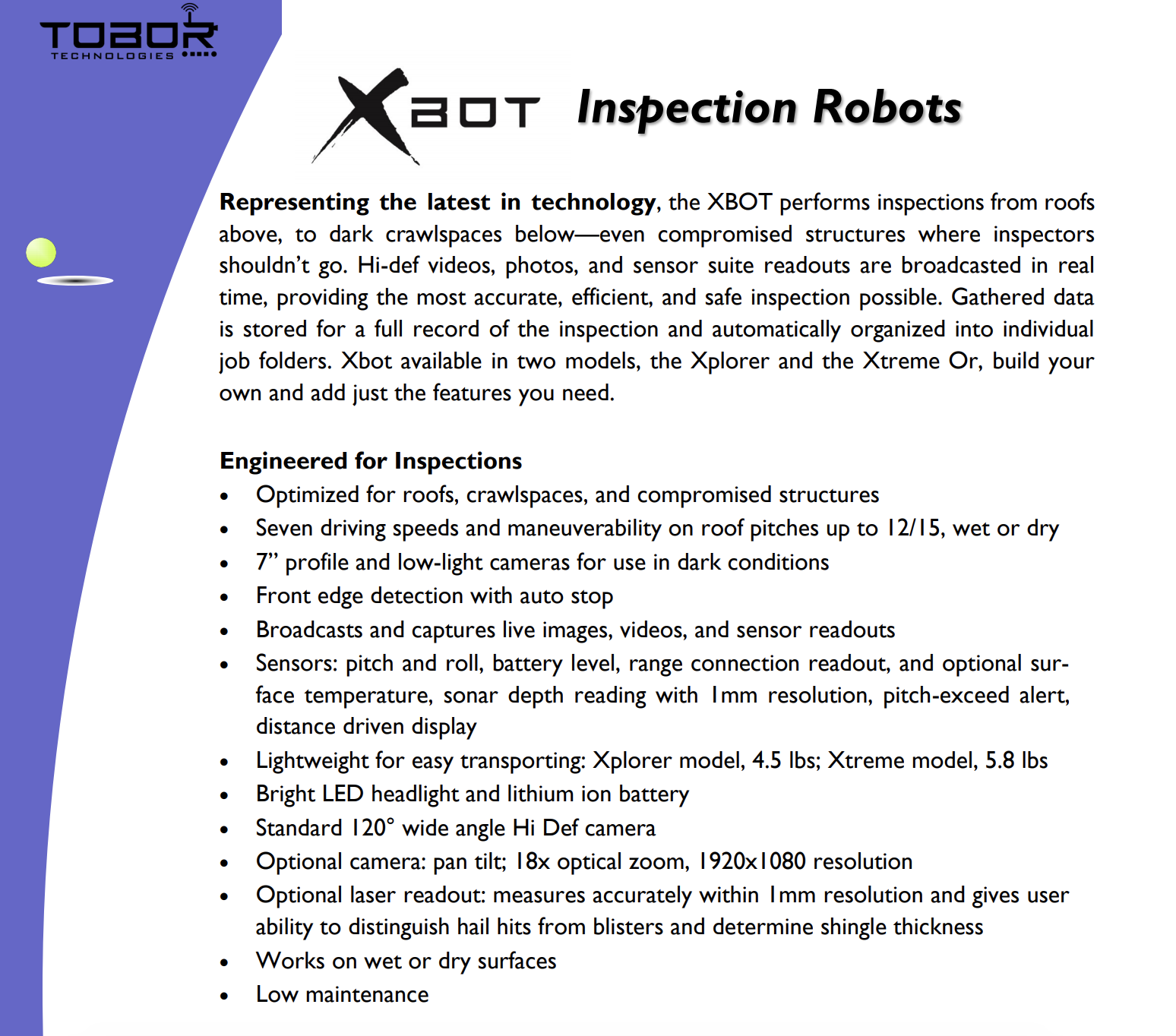 925 B S. Capital of Texas Highway
Suite 125
Austin, TX 78746